News 2013
Please email your News to marketing@trakehners.uk.com. We love to know what all your talented Trakehners are up to, so please email us with your news and photos.

Join Trakehners UK on Facebook, post your photos and videos..
24th June 2013 - Queens Mare foals.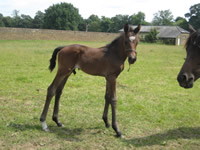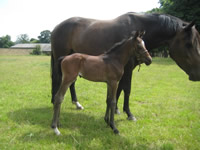 We are delighted to show the first photos of the Queens new Trakehner Colt by Kentucky out of Dolce Luciana born in the field at Hampton Court Royal Stables on 24th June 2013.

Photos by kind permission of HM the Queen.
25th/26th May 2013 - Garuda K - 4th place at Roosendaal CDI Nedtherlands.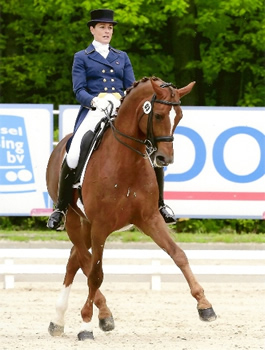 Woodcroft Garuda K & Lesley do their second International Show at Roosendaal CDI Nedtherlands.
They were 8th in The PSG on the first day with 68.132% taking them into The Small Tour Final, in which they scored 69.975% for a fabulous 4th place!
Well done!
2013 and Trakehners UK have a new member - HRH Queen Elizabeth II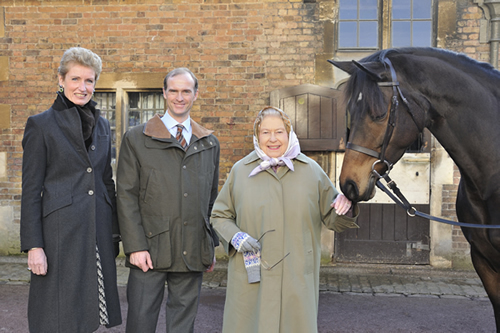 This image is the property of Eva Zielinska-Milla and cannot be copied or reproduced.
Trakehners UK are very excited to announce that their newest member is HRH Queen Elizabeth II who has graciously accepted honorary life membership as she is now the owner of the Premium Trakehner Mare Dolce Luciana, by Lord Luciano and in foal to Champion Stallion Kentucky. This mare is a Jubilee gift from Heinrich Donatus Prince of Hessen. Read the full story by clicking here.

Susan Attew - Chairman
January 4th-6th 2013 | Garuda K on the way to Grand Prix

Garuda K at the NMS Gala Show. Photo: Jutta Bauernschmitt
The approved trakehner stallion Garuda K (by E.H. Münchhausen TSF - E.H. Angard - Unkensee, bred by Gestüt Kapellenhof, Heinsberg, owned by Bernadette O'Sullivan, from Woodcroft Stud ) placed well at the CDI Drachten, the Netherlands, Jan 4th-6th 2013.
Source: Trakehners International