Trakehner Stars
If you own or compete a Trakehner star please email us with the details.
The Trakehner representatives in top class competition flying the British Flag for us are Amber du Montois (by Abdullah and British bred by Denise Stamp) and ridden by Peter Charles. Traxdata Mulligan and Step's Helsinki (bred in Lituania) also jumping internationally with Peter Charles and John Whittaker.

There are mentions of winning Trakehners in Horse & Hound nearly every week now, as they become more widely established in Britain. At the end of 2000 there were in excess of 150 Trakehner Horses registered with the BHD and actively competing on the National Circuit. Approx. 90 in Dressage. 40 in Show Jumping and 20 or so in Eventing.
Laura Bechtolsheimer & Mistral Højris win Team Gold and Individual Bronze, London Olympics 2012
Mistral Højris (Alf) (Part bred Trakehner)
Born 1995
Sire:
Michellino
Dam: Virginia
Sire of Dam :Ibsen
Team Silver for Nicola Wilson and Opposition Buzz at the London Olympics 2012
Opposition Buzz-16.1hh,
Born 1997, black gelding by Fleewater Opposition,
Owned and Bred by Rosemary Search.
Ridden by: Nicola Wilson
Holme Grove Prokofiev | Trakehners are again the new face of LLoyds.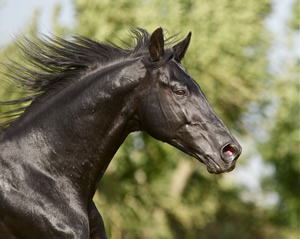 Trakehner Stallion Holme Grove Prokofiev is new Lloyds Bank Black Horse! See Horse and Hound write up. September 2012.
Seacookie TSF 2nd at the Burghley Horse Trials CCI - September 2010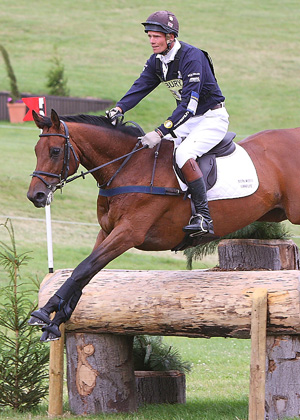 Seacookie TSF(by Helikon xx - Onassis *E*), bred by Walter Elxnat and owned and ridden by William Fox-Pitt finished on a sensational 2nd place at one of the world's toughest horse trials, the beim CCI**** Burghley in the UK. The final score was 42.9 and the event was won by Caroline Powell from New Zealand with the 17yr old Lenamore on their dressage score.
Photo by Burghley Horse Trials
And at the beginning of the month, Trakehners dominated the CNC*** and ** divisions. Bettina Hoy and Lafranco TSF (by Bulrush xx - Karon) placed 2nd in the CNC*** and Michael Jung and Vincent TSF (by Grafenstolz - Almox Prints J) won the CIC** with 7 points in the lead. 4th in this division was Don Juan M (by EH Manrico - EH Consul) with Constantin von Ziegner, followed on 10th position by Lacorna (by Cornus - Native Guile xx) with Kai-Steffen Meier.
Source: Trakehners International
Opposition Buzz
Another part bred Trakehner with an outstanding record, by no less than Fleetwater Opposition. Ridden by Nicola Wilson, he Completed Badminton again this year and was placed a respectable 8th. View his British Eventing Results here.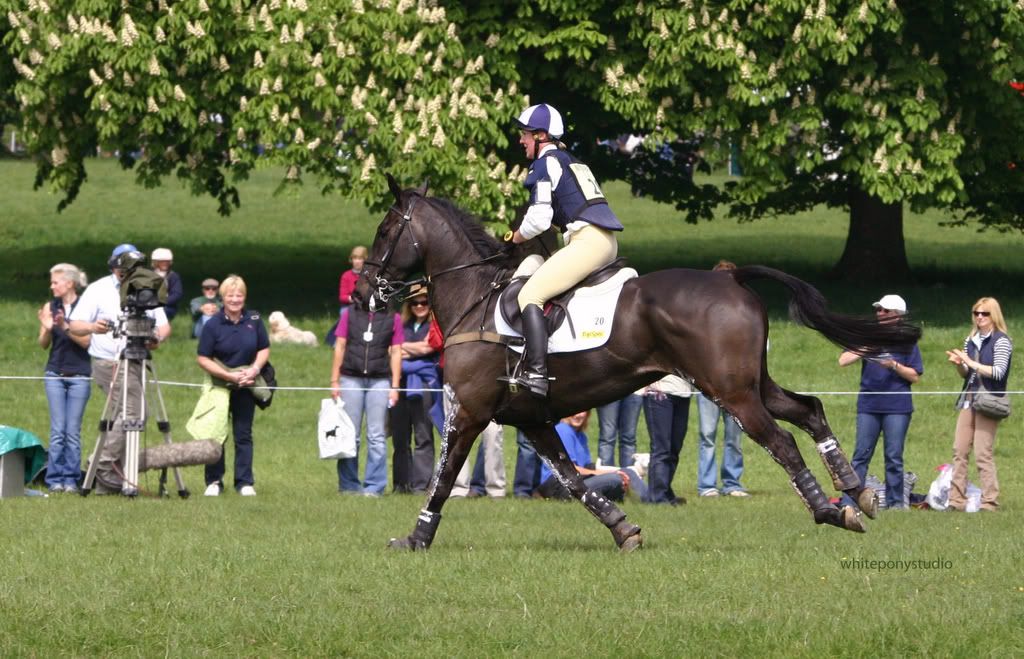 Moorlands Totilas
Edward Gal wonder horse Moorlands Totilas didn't disappoint at the Olympia Horse Show World Cup Dressage Qualifier, breaking the freestyle world record with 92.3%.
Karen Bassett and her team of Trakehners
There is a long tradition of competitive driving in the Trakehner breed, and Karen Bassett is one of the best known in the world for her teams of Trakehner horses, having been British Champion many times, and represented Great Britain with great honour in World and European Championships.
Karen can be contacted through her web site http://www.karenbassett.co.uk/
Next Milton
Who could forget him John Whitaker's famous grey mount, he was a superstar in his own right. Part bred Trakehner.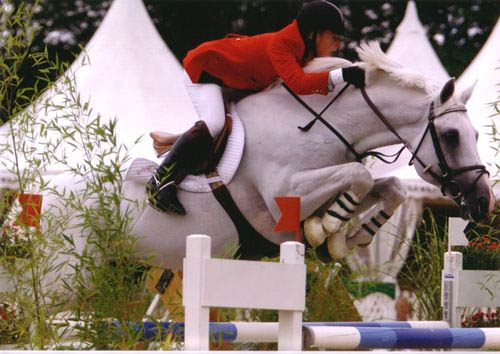 Beatos
We couldn't resist it!
These two Black Trakehner Stallions were both the Lloyds Bank Black Horse in the 1980's
Both wonderful stallions who have now sadly died.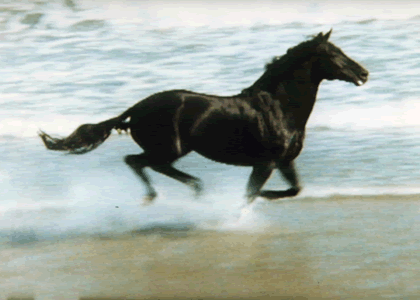 Downlands Cancara