Trakehners UK Junior Bursary Winners News
Amy Furness 2012/2013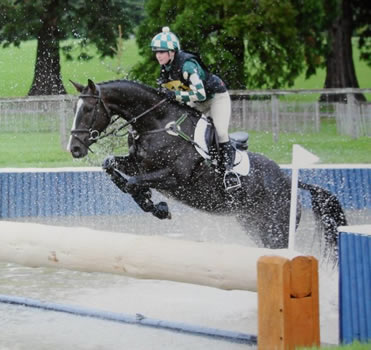 Junior Training Bursary Amy Furness age 19 riding her partbred Landmark Abacus in eventing.

Read more about Amy and her future goals.
Date: 17th December 2012
Dear Trakehners UK
As the 2012 Junior Training Bursary winner, I thought that you might like an update on our progress.
Since winning the bursary Baby and I have completed our first CIC and CCI*, where we finished on our dressage score in both. We then progressed onto our first events at Intermediate level at the end of the season where we went double clear in both and only picked up a few time faults across country; at Aldon we managed to finish 10th.
Baby is now having a short holiday over the winter to wind down after the brilliant season we have had. He will be coming back into work in January where I will be looking forward to using my bursary to have lots of dressage training in order to improve our flatwork for the upcoming season.
Our aim for the 2013 season is to carry on at intermediate level; achieving some more double clears, before tackling our first CIC** by the middle of the season. At the end of 2013, I wish to have completed at least one CCI** and perhaps an Advanced event on Baby and to finish the year on a good note.
I am really looking forward to next season and my excitement was enhanced further after receiving a letter through the post from British Eventing. The letter was to inform me that Baby had been selected for the World Class Equine Pathway - who's purpose is to identify and support world class horses that have to potential to develop into medal winning horses. This means that we shall attend training days and our progress over the year will be monitored by British Eventing. This is an excellent way for Baby and I to get noticed and maybe considered for future teams.
Kind Regards
Amy Furness