Trakehners For Sale - Broodmares In Foal and Open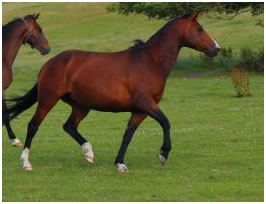 Owner:
Contact:
Tel:
Mob:
E Mail:
Web:
County:
Ruth
Ruth
01824750849
07891838622
Colour:
Sex::
Size:
Born:
Price:
Breed:
Viola is a graded 6 yr old Trakehner mare. She has good conformation and uphill paces. Viola is very easy to handle and has a lovely laid back temperament. She will either make an outstanding brood mare or will excel under saddle in any sphere. It has been a difficult decision for me to sell Viola as she is a lovely mare to have around.
Viola's dam PM Holme Park Vincenca is one of the most beautiful horses I have ever seen, with her good deep body and big doe eyes and an hourglass face. HP Vincenca was a champion foal with the TBF in 1997 and graded with a score of 9,8,7/9,7,6/8 in  2001 where she was reserve champion at the grading. HP Vincenca is from top performance  bloodlines with her sire being Holme Grove Solomon, who was awarded BHD dressage Sire of the  year in 1998 and gained 161 points in one season, qualifying for the National Championship at Elementary level.
Viola's sire is the impressive Chabrol by Alter Fritz out of Cinzano. Chabrol was reserve champion of the Trakehner championship for young riding horses. He produces beautiful foals with long legs, big powerful uphill movements and fantastic temperaments, Chabrol has proven bloodlines which combine with Chardonnay, Rockefeller, Postmeister, Seeadler, Santiago and Kassio, which are some of the best known and popular dressage genes. Link to more images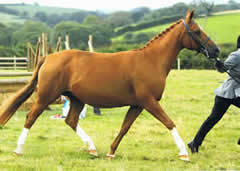 Owner:
Contact:
Mob:
Tel:
E Mail:
Web:
County:
Anna
Anna
01803 293311
annalippiatt@hotmail.com
Colour:
Sex::
Size:
Born:
Price:
Breed:
Chestnut
Mare
15.2hh
13 Yrs
For Loan
Broodmare for sale. By Holme Grove Solomon, 13 years old, pretty chestnut, 15.2hh. Has had two foals that I know of, one of which I still have (also for sale).  Fliss can be ridden. I have recently started riding her and she is showing much promise I just don't have the time to give her the attention she needs.  She is however, advertised as a broodmare. Lovely elevated paces can be seen loose or in-hand. loan considered,

Image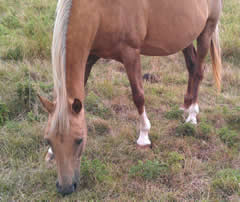 Owner:
Contact:
Mob:
Tel:
E Mail:
Web:
County:
Julie Wattiez
07989214258
01480 214864
Colour:
Sex::
Size:
Born:
Price:
Breed:
Olympus Golden Madonna............. Pb Trakehner........ Out of Dunit....... By Fleetwater Olympus... Dob 1990.... Backed but un-ridden for many years so would need re-backing..... Quiet ride when ridden... Used as fantastic brood mare. For sale through no fault of her own.. Owner giving up and moving away.. salsa stud on face book.....